Philemon
At a Glance
(5/5) *****
Reliability of Dating: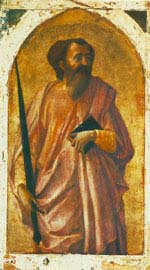 Estimated Range of Dating: 50-60
A.D.
Text
Resources
Offsite Links
Books
Information on Philemon
Philemon is generally accepted to be an authentic letter of Paul. The grounds for acceptance are simple; the letter is a short, mundane, and presents no difficulties for Pauline authorship in style or thought.
Some Contemporary Texts