Gospel of the Ebionites
At a Glance
(2/5) **
Reliability of Dating: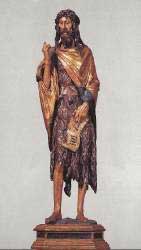 Estimated Range of Dating: 100-160
A.D.
Text
Offsite Links
Books
Information on the Gospel of the Ebionites
In The Other Gospels, Cameron makes the following observations: "The Gospel of the Ebionites (Gos. Eb.) is a gospel harmony preserved in a few quotations in the writings of Epiphanius (a church writer who lived at the end of the fourth century C.E.). The original title of this gospel is unknown. The designation customary today is based on the fact that this was the gospel probably used by the Ebionites, a group of Greek-speaking Jewish Christians who were prominent throughout the second and third centuries. Epiphanius incorrectly entitles this the 'Hebrew' gospel, and alleges that it is an abridged, truncated version of the Gospel of Matthew. Whereas the Gospel of the Ebionites is indeed closely related to Matthew, examination of the extant fragments reveals that much of the text is a harmony, composed in Greek, of the Gospels Matthew and Luke (and, probably, the Gospel of Mark as well). Although Irenaeus (late in the second century) attests to the existence of this gospel, we are dependent solely upon the quotations given by Epiphanius for our knowledge of the contents of the text."
The Gospel of the Ebionites omits the infancy narratives. The gospel presents both John the Baptist and Jesus as vegetarians, and Jesus says that he has come to abolish sacrifices. Cameron says, "Together with the sayings about the passover, this intimates a polemic against the Jewish Temple." This indicates that the Gospel of the Ebionites, like the Gospel of Matthew, addresses the issue of "Jewish identity after the destruction of the Temple." The solution offered to this problem is "to believe in Jesus, the true interpreter of the Law." Cameron suggests that the Gospel of the Ebionites was written in the mid-second century in Syria or Palestine.
Some Contemporary Texts