1 Corinthians
At a Glance
(5/5) *****
Reliability of Dating:
(3/5) ***
Length of Text: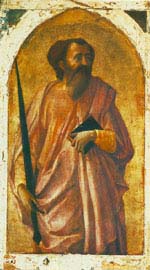 Estimated Range of Dating: 50-60
A.D.
Text
Resources
Offsite Links
Books
Information on 1 Corinthians
First Corinthians is one of the four letters of Paul known as the Hauptbriefe, which are universally accepted to be authentic. The letter is usually dated c. 54/55 CE. Werner Georg Kummel states (Introduction to the New Testament, p. 275): "The genuineness of I Cor is not disputed: the letter is already clearly known in I Clem 37:5; 47:1-3; 49:5; Ign., Eph 16:1; 18:1; Rom 5:1; Phila 3:3."
Some Contemporary Texts